Posted by Katelyn Roy on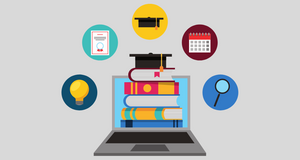 Like many trainers, you want your programs to be accessible, relevant, and practical. A Learning Management System is an ideal place to start. While they may seem intimidating, a good LMS will save you time and allow you to reach more participants. Learn more about what an LMS can do for you and some of our best practices to make the most of this modern learning format.
Posted by Katelyn Roy on
Blended learning is training that combines traditional face-to-face instruction and electronic learning. Now is a more ideal time than ever to implement blended learning into your training programs. Below are our top ten benefits of blended corporate learning.
Posted by Zachary Myers on
  Learning Styles: An Overview What is the overall goal of your corporate training? Whether it is to streamline tasks more effectively, modernize your systems, or develop soft skills, at the core of every training workshop, the objective is to teach your participants what they need to know to effectively take on their roles at their organization. When teaching a group of individuals, everyone will have different ways that they encode and retain the information they are being given. This is referred to as learning styles. There are four main learning styles that trainers should be aware of when preparing...