Posted by Katelyn Roy on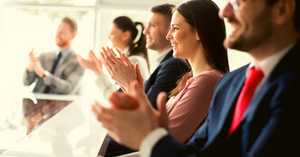 Corporate training is typically considered a fact of working for an organization. It is fairly easy to justify the importance of soft skills training, as it is an actionable way to help your employees grow and meet organizational goals effectively.
But how to we get people excited for something that can sometimes be generalized as mundane like corporate training? It is possible, and being strategic with the marketing and promotion of your training workshops can make a huge impact on the success of your training workshops or training consultations as a whole.
Here are our tips on how to get your participants excited for corporate training.
Posted by Katelyn Roy on
Does the idea of public speaking make your skin crawl and your heart race? If this sounds familiar, you are not alone.
Glossophobia, or the fear of public speaking, affects approximately 75 percent of adults. The statistic is staggering when you consider how many jobs require public speaking skills, whether it's to pitch a new idea, interact with the media/stakeholders, or even running an internal meeting.
But it doesn't have to be this way. With a little preparation, the ability to deliver a great presentation can be game changing for your professional development and organization as a whole.
Effectively deliver your key messages and even influence behavior with our public speaking tips and tricks.
Posted by Katelyn Roy on
Now more than ever, it has never been more important to use the internet to work on your professional development. The power of social media has made it possible to network and recruit with just a few taps on a smart phone. It has never been easier to display your personal brand to millions of people.
But how do we leverage this? Here are our top 5 Dos and Don'ts for using social media to boost your professional development.