Posted by Katelyn Roy on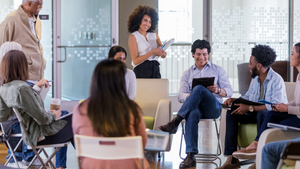 As a trainer, you play a major role in helping your participants overcome significant challenges in their professional lives. There are situations where you may have to help your trainees make difficult decisions in their organization. Strong decision-making skills is an invaluable soft skill that can be beneficial in any role. This blog post discusses how to facilitate decisions that must be made in a group.
Posted by Katelyn Roy on
Creative problem solving helps us look to challenges with an open mind and consider different perspectives. The creative problem-solving process is just that – a process. But by working through it you can optimize your decision-making skills and come to conclusions you may not have otherwise.
Check out this blog post where we discuss the creative problem-solving process, and how it can help you make tricky decisions in your organization.